COMMITTED TO THE COMMUNITIES WE SERVE
Market & Johnson is committed to the communities we serve and are proud of our strong reputation as a proactive Corporate Citizen. The ownership team, our employees and their families are active in hundreds of area organizations and events by providing financial support, volunteering time and leadership, providing in-kind construction services and other valuable services that provides a tremendous amount of value to key community organizations. Annually, our firm provides significant financial support to programs in need, but the time and effort of our employees is indeed the real commitment to our communities. Our employees have organized the M&J Employee Impact Fund, volunteered countless mentor hours as big brothers or sisters and classroom volunteers, board members, event organizers and many other roles that provide a huge impact to the communities we serve.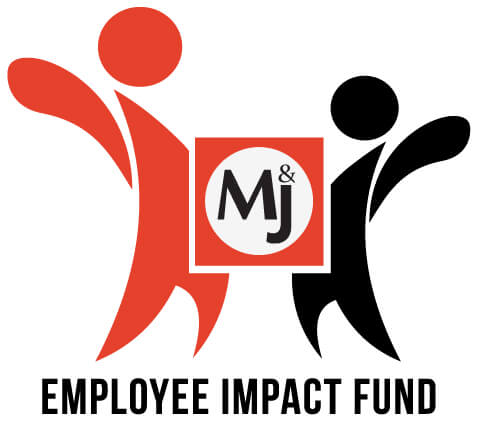 EMPLOYEE IMPACT FUND
As a company, Market & Johnson has always focused on being a strong community supporter. However, while philanthropic endeavors have always been at the forefront for M&J, we knew we needed to serve our communities in a way that ensured we supported organizations our employees cared about. To promote this endeavor, Market & Johnson created the M&J Employee Impact Fund (EIF), a fund managed and distributed by the Eau Claire Community Foundation that offers a tax-deductible option for our employees to make contributions that support organizations in the communities where they live and work. Throughout the year, employee fundraising programs and events are promoted to raise money for the fund, and all organizations that benefit are suggested and voted on by our employees. Their response has been enthusiastic, and each year the fund continues to grow. We are proud of our employees and their generous spirit that has benefited so many wonderful organizations.
EMPLOYEE IMPACT FUND GIVING HISTORY
donated to 10 organizations
donated to 13 organizations
donated to 12 organizations
donated to 15 organizations
M&J'S COMMITMENT TO COMMUNITIES WE SERVE ORGANIZATIONS WE SUPPORT
BIG BROTHERS BIG SISTERS

EAU CLAIRE COMMUNITY TABLE

HOPE LIVES FOUNDATION

HORSEMAN INTERNATIONAL

JUNIOR ACHIEVEMENT

LA CROSSE DIVE UNIT

CHIPPEWA YOUTH SYMPHONY
M&J IN THE COMMUNITY
2020 Special Olympics Polar Plunge

2020 Community Table Volunteers

Rotary Club - Feed My People

Sleep In Heavenly Peace Build Day

2019 Business Community Downtown Wellness Walk

Community Table Volunteers

2019 Community Table

2018 OKTOBERFEST PARADE

2018 CLEARWATER PARADE

MAPLE LEAF MARATHON WATER AID STATION

BRF B&G CLUB HYGIENE BAGS

HALF MOON DRAGON BOAT RACE

2018 YMCA TRUCK DONATION

2018 BUCKSHOT RUN

TRAP SHOOT EVENT

COMMUNITY GARDEN VOLUNTEERS

EAU CLAIRE SCHOOL DISTRICT HOMELESS PROGRAM

SALVATION ARMY ANGEL TAG PRESENTS

BEAVER CREEK BUTTERFLY PERGOLA

BLANKETS FOR CHARITY